The accumulator unit module produce, store and deliver hydraulic energy under the form of fluid under controlled pressure to the connection pipes/hoses sledge assembly.
The accumulator unit module is mounted at approximate 80-100 feet from the well bore, outside the explosion hazard zone. Accumulators are pressure vessels used to store hydraulic energy by compressing a blanked of nitrogen over an oil filled area. The accumulators are cylindrical type, with a stainless steel float that partially separates the oil from the nitrogen which assure a long live compare with membrane or piston with rubber gasket versions.
The reservoir has a rectangular shape, contain baffle, fill and drain ports and stores the hydraulic fluid at the atmospheric pressure.
Highly sensitive hydro-pneumatic or electrical, self-relieving regulators efficiently control hydraulic pressure while drill pipe and tool joints on being stripped. The accumulator unit module has warning lamps and alarm, to indicate low accumulator pressure, low air pressure, low hydraulic fluid level.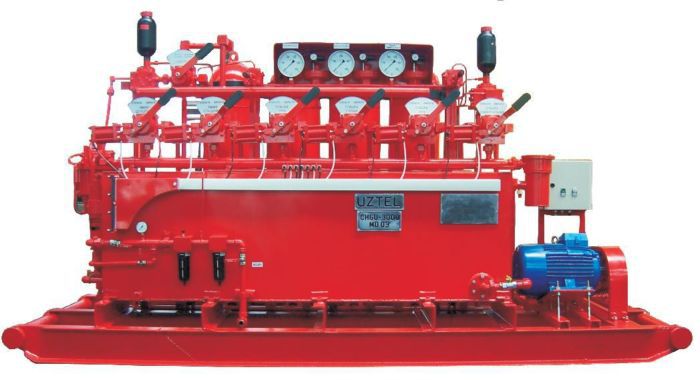 Accumulator unit module is connected to the preventers by a system of pipes and fire tested hoses (standard-flexible hoses 20 feet long at each end combine with steel pipes install on racks, total length minim 100 feet).On request other configurations available. Connection between accumulator unit module and driller remote control panel is made in the pneumatic version with a multiple pneumatic remote control lines encased in polyurethane sheeting and fitted with quick change junction's bots for easy attachment. Electrical version use a multiple wire cable with ends quick connectors.
The air or electrical remote control panel has a memory system which indicates the last position of stack function.
Air or electrical remote control panels provide control and pressure monitoring of the BOP Control System. Air or electrical remote control panels can be provided in a wide variety of size, styles and configurations to meet specific space and operational criteria. All air or electrical remote control panels contain a master control valve or a master button which must be operated simultaneously with the selected function to initiate the operation.
UZTEL is able to offer a wide range of equipments which satisfys the technical and economical requirements of each client.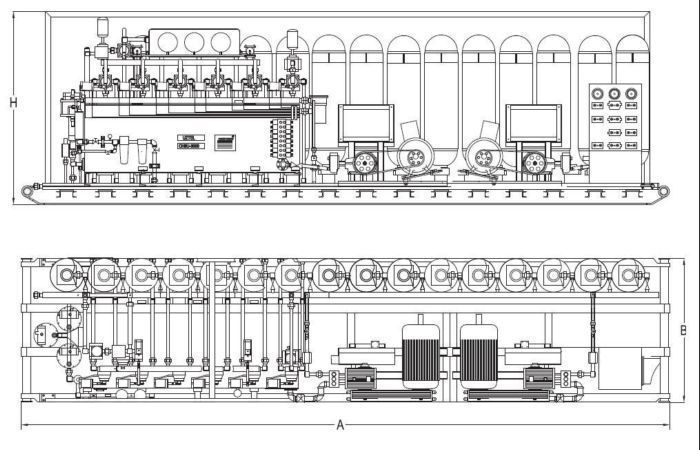 Item
Features
MODEL
MD 03/MD03E
MD 05/MD05E
MD 08/MD08E
MD 10/MD10E
MD 16/MD16E
MD WO4
1
Maxim working pressure
210bar (3000 psi)
2
Pumps
main
electrically driven
secondary
pneumatically operated
3

Hydropneumaticaccumulator

modul volume

4x80=320 litres

4x21.13=84.5gal

6x80=480 litres

6x21.13=128.8gal

8x80=640 litres

8x21.13=169gal

10x80=800 litres

10x21.13=211.3gal

16x80=1280 litres

16x21.13=338.1gal

4x80=320 litres

4x21.13=84.5gal

4

Fluid volume used for

70 to 210 bar/1000 to 3000 psi

4x40=160 litres

4x10.57=42.3gal

6x40=240 litres

6x10.57=63.4gal

8x40=320 litres

8x10.57=84.6gal

10x40=400 litres

10x10.57=105.7gal

16x40=640 litres

16x10.57=169.1gal

4x40=160 litres

4x10.57=42.3gal

5
Safety relief valve
1/2in x 220 bar (3140 psi)
6
Tank volume

650 litres

171.7 gal

1000 litres

264.2 gal

1000 litres

264.2 gal

1000 litres

264.2 gal

1400 litres

370.0 gal

650 litres

171.7 gal
7
Pump flow
main
17.4 litres/min at 1000 rot/min
28 litres/min at 1000 rot/min
28 litres/min at 1000 rot/min
40 litres/min at 1000 rot/min
40 litres/min at 1000 rot/min
17.4 litres/min at 1000 rot/min
secondary
variable
8
Electromotive power for triplex pump actuating

11 kw

1450 rot/min

18.5 kw

1450 rot/min

18.5 kw

1450 rot/min

22 kw

1000 rot/min

22 kw

1000 rot/min

11 kw

1450 rot/min
9
Trapezoidal belt type
B 17x11- 1626
B 17x11- 1850
B 17x11- 1850
SPA 12.5x10-1765
SPA 12.5x10-1765
B 17x11- 1626
10

Mains frequency /

supply voltage

50Hz /380V

60Hz / 460V

50Hz /380V

60Hz / 460V

50Hz /380V

60Hz / 460V

50Hz /380V

60Hz / 460V

50Hz /380V

60Hz / 460V

50Hz /380V

60Hz / 460V

11
Auxiliary hydro-pneumatic pumps number
1
2
2
2
3
1
12
Hydro-pneumatic pumps ratio (hydraulic/pneumatic pressure ratio)
60:1
13
Standard number of station fluid control
6
14
Size of houses / pipes
1 in
15
Actuating distribuitors type
4 way x 3 positions, 1 in x 210 bar/3000 psi (selector)
16

Overal dimensions (mm/in)

Lenght (A):

Width (B):

Height (H):

4020/158.27

1140/44.88

2060/81.10

4225/166.34

1540/60.63

2060/81.10

4345/171.06

1540/60.63

2060/81.10

4785/188.38

1540/60.63

2060/81.10

5560/218.9

1800/70.9

2060/81.10

3475/136.82

1200/47.25

2060/81.10

17
Net weight (kg / lbs)
3500/7716
4500/9921
5950/13117
6250/13779
8650/19070
3000/6614
Note: All dates are just for information only. Please contact UZTEL for more informations